Scanner Specifications
Applies to: KeepStock Inventory Scan
This scanner, when combined with a third party application (software not included), allows you to capture bar codes for a variety of uses. Whether you're scanning bar codes to generate a shopping list, purchasing products, or finding information on the Internet, this scanner is the easiest data capture device to use. Simply point, and scan!
Unpacking Your Scanner
Depending upon the configuration purchased, the scanner is packaged with either a serial communication cable or a USB communication cable set. If items are missing, contact your reseller.

Batteries
Replacing the Batteries
When it is necessary to replace the batteries:
Remove screw securing the battery cover.
Lift battery cover.
Remove the old batteries.
Insert four new batteries noting the polarity.
Close battery cover and replace screw.
Low Battery Warning
The CS 1504 will indicate a low power state to the user by blinking the LED indicator red while trying to scan a bar code.
Replacement Batteries
Replacement batteries (item #5U085) can be purchased on Grainger.com or from your local branch.
Audio Control
To toggle the beeper tone on or off, press and hold the large button for 10 seconds until the LED indicator turns solid amber (beeper tone off) or until the LED turns solid amber and a double tone is heard (beeper tone on).
Cleaning
Clean the CS 1504 with a soft, clean cloth. Do NOT use any solvent such as alcohol or any abrasive substances.
Technical Specifications
Specification
Value
Supported Symbologies
UPC/EAN, Code 3 of 9, Code 128, I 2 of 5, D 2 of 5, Coupon Code
Storage Capability
Approximately 150 30-character bar codes
Power Requirements
4 batteries. Recommended type:
• Energizer EPX 76*
• Energizer 357*
• Maxell SR 44W
• Rayovac 357
Battery Life
5,000 scans with new batteries.
Operating Temperature
5 °C to 40 °C (41 °F to 104 °F)
Operating Humidity
0 to 95% (non-condensing)
Weight
Approximately 1.8 oz. (without batteries)
Approximately 2.7 oz. (with batteries)
Storage Temperature
-20 °C to 60 °C (-4 °F to 140 °F) (without batteries)
* For best results use ENERGIZER brand batteries.
Warranty
Symbol Technologies, Inc. ("Symbol") manufactures its hardware products in accordance with industry-standard practices. Symbol warrants that for a period of 90 days from date of shipment, products will be free from defects in materials and workmanship.
This warranty is provided to the original owner only and is not transferable to any third party. It shall not apply to any product (i) which has been repaired or altered unless done or approved by Symbol, (ii) which has not been maintained in accordance with any operating or handling instructions supplied by Symbol, (iii) which has been subjected to unusual physical or electrical stress, misuse, abuse, power shortage, negligence or accident or (iv) which has been used other than in accordance with the product operating and handling instructions. Preventive maintenance is the responsibility of customer and is not covered under this warranty.
Wear items and accessories having a Symbol serial number, will carry a 90-day limited warranty. Non-serialized items will carry a 30-day limited warranty.
Warranty Coverage and Procedure
During the warranty period, Symbol will repair or replace defective products returned to Symbol's manufacturing plant in the US. For warranty service in North America, call the Symbol Support Center at 1-800-653-5350. International customers should contact the local Symbol office or support center. If warranty service is required, Symbol will issue a Return Material Authorization Number. Products must be shipped in the original or comparable packaging, shipping and insurance charges prepaid. Symbol will ship the repaired or replacement product freight and insurance prepaid in North America. Shipments from the US or other locations will be made F.O.B. Symbol's manufacturing plant. Symbol will use new or refurbished parts at its discretion and will own all parts removed from repaired products.
Customer will pay for the replacement product in case it does not return the replaced product to Symbol within 3 days of receipt of the replacement product. The process for return and customer's charges will be in accordance with Symbol's Exchange Policy in effect at the time of the exchange.
Customer accepts full responsibility for its software and data including the appropriate backup thereof. Repair or replacement of a product during warranty will not extend the original warranty term.
Symbol's Customer Service organization offers an array of service plans, such as on-site, depot, or phone support, that can be implemented to meet customer's special operational requirements and are available at a substantial discount during warranty period.
General
Except for the warranties stated above, Symbol disclaims all warranties, express or implied, on products furnished hereunder, including without limitation implied warranties of merchantability and fitness for a particular purpose. The stated express warranties are in lieu of all obligations or liabilities on part of Symbol for damages, including without limitation, special, indirect, or consequential damages arising out of or in connection with the use or performance of the product.
Seller's liability for damages to buyer or others resulting from the use of any product, shall in no way exceed the purchase price of said product, except in instances of injury to persons or property.
Some states (or jurisdictions) do not allow the exclusion or limitation of incidental or consequential damages, so the proceeding exclusion or limitation may not apply to you.
Regulatory Information
Radio Frequency Interference Requirements
This equipment has been tested and found to comply with the limits for a Class B digital device, pursuant to Part 15 of the FCC rules. These limits are designed to provide reasonable protection against harmful interference in a residential installation. This equipment generates, uses, and can radiate radio frequency energy and, if not installed and used in accordance with the instructions, may cause harmful interference to radio communications. However there is no guarantee that interference will not occur in a particular installation. If this equipment does cause harmful interference to radio or television reception, which can be determined by turning the equipment off and on, the user is encouraged to try to correct the interference by one or more of the following measures:
Reorient or relocate the receiving antenna
Increase the separation between the equipment and receiver
Connect the equipment into an outlet on a circuit different from that to which the receiver is connected
Consult the dealer or an experienced radio/TV technician for help.
Radio Frequency Interference Requirements - Canada
This device complies with RSS 210 of Industry & Science Canada. Operation is subject to the following two conditions: (1) this device may not cause harmful interference and (2) this device must accept any interference received, including interference that may cause undesired operation.
This Class B digital apparatus complies with Industry Canada Standard ICES-003.
Cet appareil numérique de la classe B est conform à la norme NMB-003 d'Industrie Canada.
CE Marking and European Union Compliance

Products intended for sale within the European Union are marked with the CE Mark which indicates compliance to applicable Directives and European Normes (EN), as follows. Amendments to these Directives or ENs are included:
Applicable Directives
Electromagnetic Compatibility Directive 89/336/EEC
Low Voltage Directive 73/23/EEC
Applicable Standards
EN 55022:1998, Limits and Methods of Measurement of Radio Disturbance Characteristics of Information Technology Equipment
EN 55024:1998; Information Technology equipment - Immunity characteristics - Limits and methods of measurement
IEC 1000-4-2:1995; Electromagnetic compatibility (EMC); Part 4:Testing and measurement techniques; Section 4.2:Electrostatic discharge immunity test
IEC 1000-4-3:1997; Electromagnetic Compatibility (EMC); Part 4:Testing and measurement techniques; Section 3. Radiated, radio frequency, electromagnetic field immunity test.
IEC 1000-4-4:1995; Electromagnetic compatibility (EMC); Part 4: Testing and measurement techniques; Section 4:Testing electrical fast transient,/Burst immunity.
IEC1000-4-5:1995; Electromagnetic compatibility (EMC), Part 4: Testing and measurement techniques; Section 5: Surge Immunity
IEC 1000-4-6:1996; Electromagnetic compatibility (EMC), Part 4:Testing and measurement techniques; Section 6: Immunity to conducted disturbances, induced by radio frequency fields.
IEC 1000-4-11:1994; Electromagnetic compatibility (EMC), Part 4: Testing and measurement techniques; Section 11: Voltage Dips, Short Interruptions, and Voltage Variations.
EN 60 950 + A1+ A2 + A3 + A4 + A11 - Safety of Information Technology Equipment Including Electrical Business Equipment
EN 60 825-1 (EN 60 825) - Safety of Devices Containing Lasers
Laser Devices
Symbol products using lasers comply with US 21CFR1040.10, and IEC825-1:1993, EN60825-1:1994+A11:1996. The laser classification is marked on one of the labels on the product.
Class 1 Laser devices are not considered to be hazardous when used for their intended purpose. The following statement is required to comply with US and international regulations:
Caution: Use of controls, adjustments or performance of procedures other than those specified herein may result in hazardous laser light exposure.
Class 2 laser scanners use a low power, visible light diode. As with any very bright light source, such as the sun, the user should avoid staring directly into the light beam. Momentary exposure to a Class 2 laser is not known to be harmful.

IIn accordance with Clause 5, IEC 0825 and EN60825, the following information is provided to the user: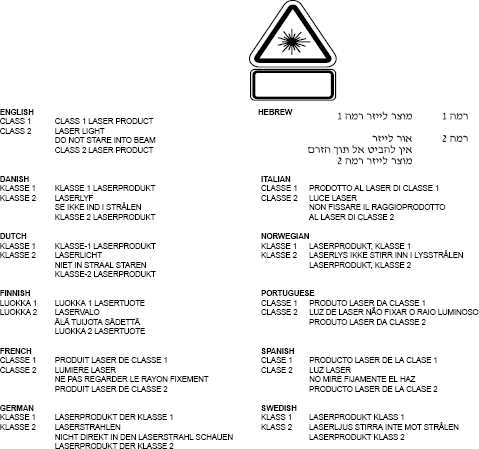 Return to Top